Baseball Bats For Kids – Past and Present:
Baseball Bats For Kids: I remember back in High School when the only Baseball Bat that in the conversation was the Easton Black Magic (I am getting old).  After sitting here a moment and thinking about it, we might have had it better back then. We didn't have to worry about all these different styles of bats or bat brands and what materials they used to make them. There weren't all these different stamps or classifications of bats. Now the question is, which Coach Pitch Baseball Bats are the best?  That is an excellent question to ask at present, but ones we never heard back in my day. It was everyone using the same bat, an even playing field if you will. A true testament to prove if you were a good hitter.
Baseball Bats For Kids – Choices:
Times have changed, especially in the equipment athletes use. In today's game, there are many choices, from the brand of a glove to the style of the bat we swing. I do from time to time think about the "What If's." I coach, and I am around all the latest equipment that is in today's game. 
I will pick up a player's bat every now and again and think, hmm..  I wonder what kind of hitter would I have been if I had this back in my day? Okay, we all probably do that with one thing or another.
Baseball Bats For Kids – Back to reality:
Today's bats are just awesome, and the bat companies are creative as ever. They introduce us to new technology on a yearly basis. Like the changes in materials  to make a bat, the eye-catching graphics painted on the barrel, the different asymmetric handles we now see on some bat models, And of course, the names that are giving to each thunderous stick, names like the "OMAHA", the "Beast X," the "Voodoo" and who can forget the "INSANE" (don't read into that).
Baseball Bats For Kids – Hitting Instructions:
There are differences and similarities when examining the hitting instruction for youth players and experienced players. No matter the age, you can teach youngsters how to hit a baseball correctly as long as you have the right guidance.
The fundamentals of hitting are the same throughout baseball, whether you're a youth or a college player. Conventional hitting fundamentals continue the same and should be explained to kids early on.
Baseball Bats For Kids – Fundamentals Of Hitting:
1. Proper hitting stance is shoulder width apart. At a young age don't worry about teaching the open or closed position.
2. Hold the bat vertical 5-7 inches away from chest level.
3. Angle the bat slightly over the back shoulder, so if the batter is left-handed, the bat would be over the hitters left shoulder. If the hitter is right-handed, then the bat would be over his right shoulder.
4. Pushing off of your back leg to shift weight back to the front at contact. The weight distribution generates the power in your swing.
5. Keep your sights on the ball at all times. You can't hit the baseball if you can't see it. Many youths have this problem early on. They tend to jerk their head out when swinging the bat, thus not being able to see the ball to make contact.
6. Maintain a smooth, consistent swing, keeping your bat on the swing plane through the hitting zone. You will feel confident if you have an established way to swing the bat.
Those are the main hitting fundamentals that every player needs to know.
Baseball Bats For Kids – Differences:
There are differences in teaching the youth player, and this usually depends on their age and size. When instructing kids how to hit a baseball, you want to modify your approach. Be very composed when working with kids. Having the right equipment is essential. Youth that is using equipment that fits them properly tend to stay focused longer.  Nobody wants to swing a bat they can barely pick up.
Baseball Bats For Kids – Budget Time:
How much do you want to invest in our athlete?
Think about the cost and discuss it with your significant other.
Make sure the bat you are purchasing is legal and approved to use in your child's league (Local Youth Leagues will sometimes post the approved bat list on their website).
Baseball Bats For Kids – Critical Factors When Purchasing A Bat:
Below is a weight and height chart, but I'll give you an example of how the length to weight ratio works to help understand how to use the chart table. A player 4'1″ to 4'4″ weighing 100-110 pounds is recommended to use a 29″ bat.
Once finalized with all the critical decisions, your choice of a bat will most likely be narrowed down to two or three.
Keep your eyes open for those online sales. I've been to the local sporting good stores, and you won't find much of a baseball bat selection, and you will rarely find a deal. Look for free shipping too.
This process can be a fun one; I hope you will find the perfect bat for your baseball season.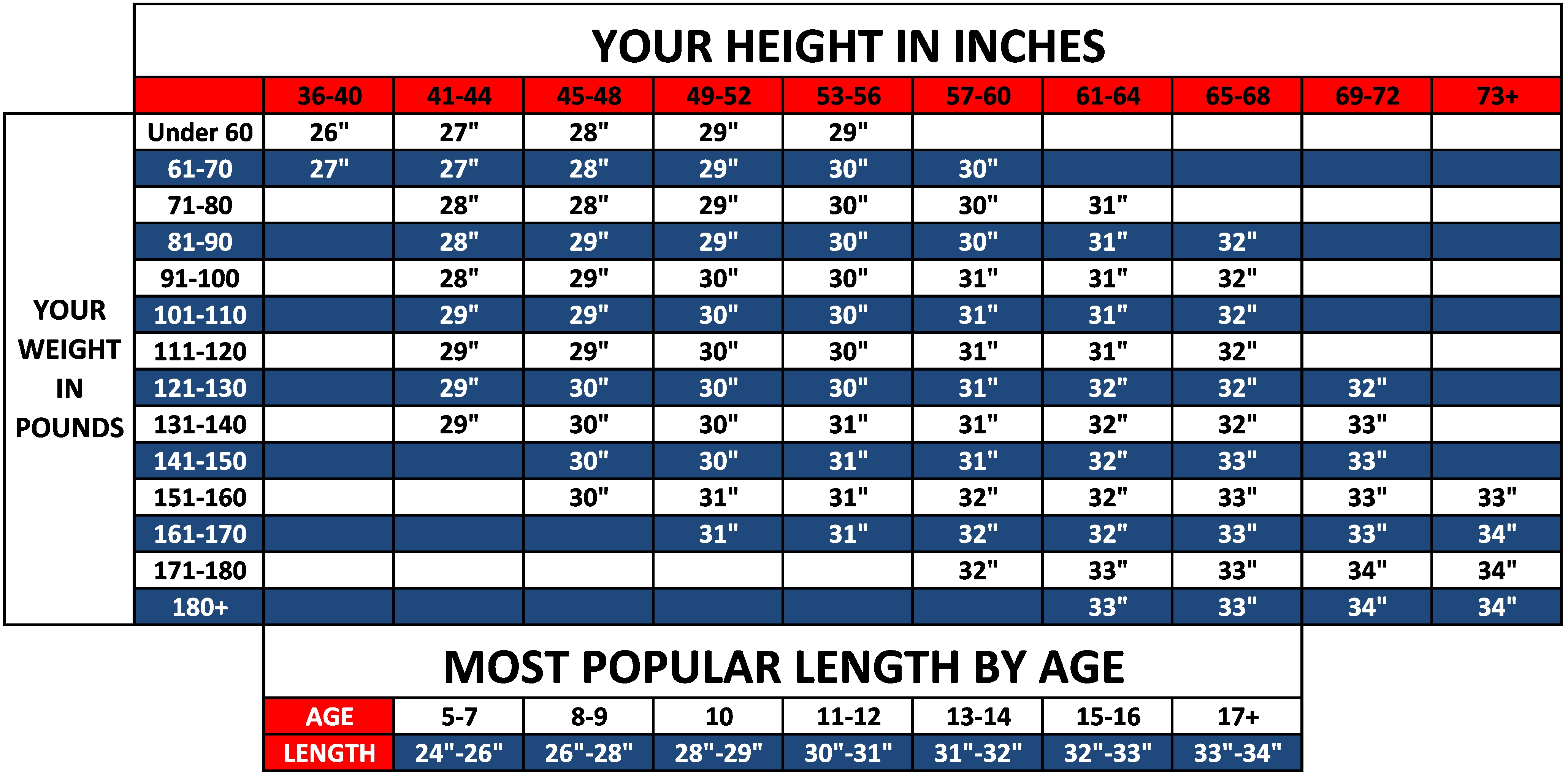 Baseball Bats For Kids – Baseball Bat Brands:
Below are some of the best baseball bat brands that produce youth baseball bats and adult baseball bats. I am sure that some will not agree with my list and that is okay, I do swing and miss on occasion.
We have a list of 10 leading brands of baseball bats.
Each year, a broad range of youth baseball bats are available online by leading baseball companies. For parents looking to get their young aces a quality bat, this means finding the right bat can be a difficult task. We make it easier for you by compiling a comprehensive list of best youth baseball bats' review. Once you read through this review, you will be able to find a bat that suits your young one perfectly.
Easton – As the #1 bat in Youth Baseball, you can trust and expect that Easton will deliver the best performing bats in the game.
Louisville Slugger – 

Approved for play in AABC, Babe Ruth, Cal Ripken, Dixie Youth, Little League, and Pony baseball.

Marruci – 

Engineered barrel-end wall thickness profiles improves balance and allows for faster swing speeds.

Rawlings – 

High-performance metal Baseball bat delivers exceptional pop and balance.

DeMarini – 

3Fusion Handle for greater weight control and feel. 3Fusion End Cap.

Axe – 

Patented Axe handle enables your best swing, more often – maximizing bat speed and improving barrel control for harder, more consistent contact.

Combat –  Provides hitters with an almost unfair sweet spot when they hit the ball that is 20-40% larger than the competitor.
Mizuno – Hot Metal Alloy and CORTECH design give you a significantly larger sweet spot.
Worth – 

Center Load Endplug designed to allow greater barrel flexibility and 5% more inertia to drive through the ball

Miken – 100 % Alloy design allows maximum trampoline effect and a larger sweet spot for the player wanting a high-end aluminum bat.
Baseball Bats For Kids – Bats Offer:
Here are just questions you might want to answer when choosing the right bat.  I can tell you my answers, but I won't be the one swinging for the fences. Good luck to you and I am sure you will find the right bat.  If you have any questions, send me an email or leave a comment below.
Answer These Questions below, and you will do great in purchasing the right bat.
What coach pitch bat and T-ball bat are for the youth baseball players?
Are Junior big barrel bats allowed for any league which recognizes USSSA baseball?
There are Youth bats for Little League and youth big barrel bats for Senior League baseball. What is the difference?
What is the height or your player, weight, skill, and strength levels?
Which bat length, weight and barrel diameter is best for you?
Do you want composite or aluminum bat?
One piece or Two piece bat?
What does drop weight mean?
Baseball Bats For Kids – Conclusion:
In closing, you have to acknowledge the style, height, hitting prowess and other particular details of a player before determining which is the perfect youth baseball bat. For example, if the player is proficient at using wooden bats, Marucci bats are the way to go. If there are no budget restrictions and only best performance bats will do, you can go with a high-end Easton or Combat composite bats. If you want a bat that produces without burdening your budget, an alloy bat from DeMarini fits the bill ideally. There's no one-solution-fits-all when it comes to best youth baseball bats. It's always fitting to try out a few bats if you can before finalizing one.  Remember though, Online Stores like Amazon have a great return policy.
Good Luck!